Ann Arbor area residents are lucky - There is the Washtenaw County Fair PLUS the Wayne County fairgrounds are at our back-door.
This week, August 3-8, the
Wayne County Fair
will be going on in Belleville with events from he typical 4-H livestock showings to a talent show, carnival rides, all the "fair food" one desires, demolition derby's and so much more!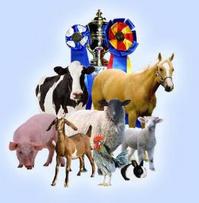 For families, the best times to visit the fairgrounds are when discounts are in place (of course). For the past several years I have competed in the talent show and have brought the family along, this year thought I will think about taking the kids for Wednesday's carnival day where kids can ride all they want for $10 or possibly we'll attend during Friday night's track event where kids under 5 get in free!
Events Schedule:
Aug. 3-8 - 2009 Wayne County Fair
Aug. 5-8 - Carnival
Aug. 6 - Night of Destruction
Aug. 7 - USA Auto Enduro Run Derby
Aug. 8 - Michigan Supercross Championship Series
The Wayne County Fair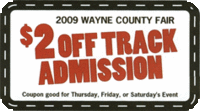 10871 Quirk Road / Belleville, MI 48111
Phone: (734) 697-7002

The fairgrounds are located West of Belleville and North of the I-94 Service Drive.
For a
full schedule of events visit the Wayne County Fair website
. The website also has a
$2 discount coupon good for events on Thurs - Sat night
!
Look for us there with sticky cotton-candy fingers and smiles on our faces!!!
Creative Commons License
/ photo credits: WayneCtyFair