I've been searching around town this week for fun events - That is especially since it is supposed to rain on and off much of the week. beyond story times, I haven't seen a lot during the week. THAT'S when I remembered that Tree Town Toys has a scheduled low-cost craft project every week.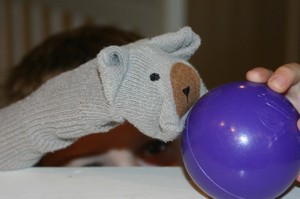 Stop by Tree Town Toys this Wednesday at 2:00 pm to have your child, age 3 and up, create their very own fuzzy, "no-mess" sock puppet! (Hey it's already "No mess" considering it's not done in MY home!)
Create-Your-Own Sock Puppets
When: Wednesday August 19, 2:00 - 4:00 pm
Where: Tree Town Toys - 2611 Plymouth Rd AA 48105
(734) 929-6545
Cost: $4.00
Project Description: Transform super-soft socks into fuzzy puppet friends. This "no-mess" project features peel and stick felt shapes, self-adhesive wiggly eyes and fuzzy fun embellishments. This is a great activity to foster language development and spontaneous creative play for any child - just add a little imagination and let the show begin!
photo by Tammy Mayrend / photo: Zachary Mayrend and his sock puppet