Get into the holiday spirit by taking the family to see It's a Wonderful Life. The production by
The Encore Musical Theatre Company
(3126 Broad St., Dexter) opens this weekend with performances through December 23.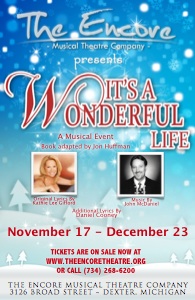 It's a Wonderful Life
November 17-December 23
Thursdays 7:00 p.m.
Fridays 8:00 p.m.
Saturdays 3:00 p.m. & 8:00 p.m.
Sundays 3:00 p.m.
The Encore's original musical version of It's a Wonderful Life is based on the classic holiday film of the same name starring Jimmy Stewart. The tale takes place in Bedford Falls, New York, 1946, and George Bailey, who has long considered himself a failure, faces financial ruin and arrest and is doubting his own self worth. But, high above Bedford Falls an eternally bumbling Angel, Clarence Oddbody, is sent to help George out. After 200 years Clarence has yet to earn his wings. But before he can do that, Clarence is given a crash course on George's life, and the multitude of selfless acts he has performed.
Admission to It's a Wonderful Life is $28/Adults, $25/Seniors (55+) and Youths (17 & under). Tickets may be purchased online at
theencoretheatre.org/Encore/Tickets
or by calling 734-268-6200.